I am really excited to show you this project. I knew as soon as the Riley Blake rep showed me this stunning 'Let's be mermaids' panel that it would be perfect as the basis for a baby blanket.
This is a really easy project to dip your toe into the world of quilting. The panel is used as a 'cheater quilt', meaning it will have the finished look of a patchwork quilt without any of the effort!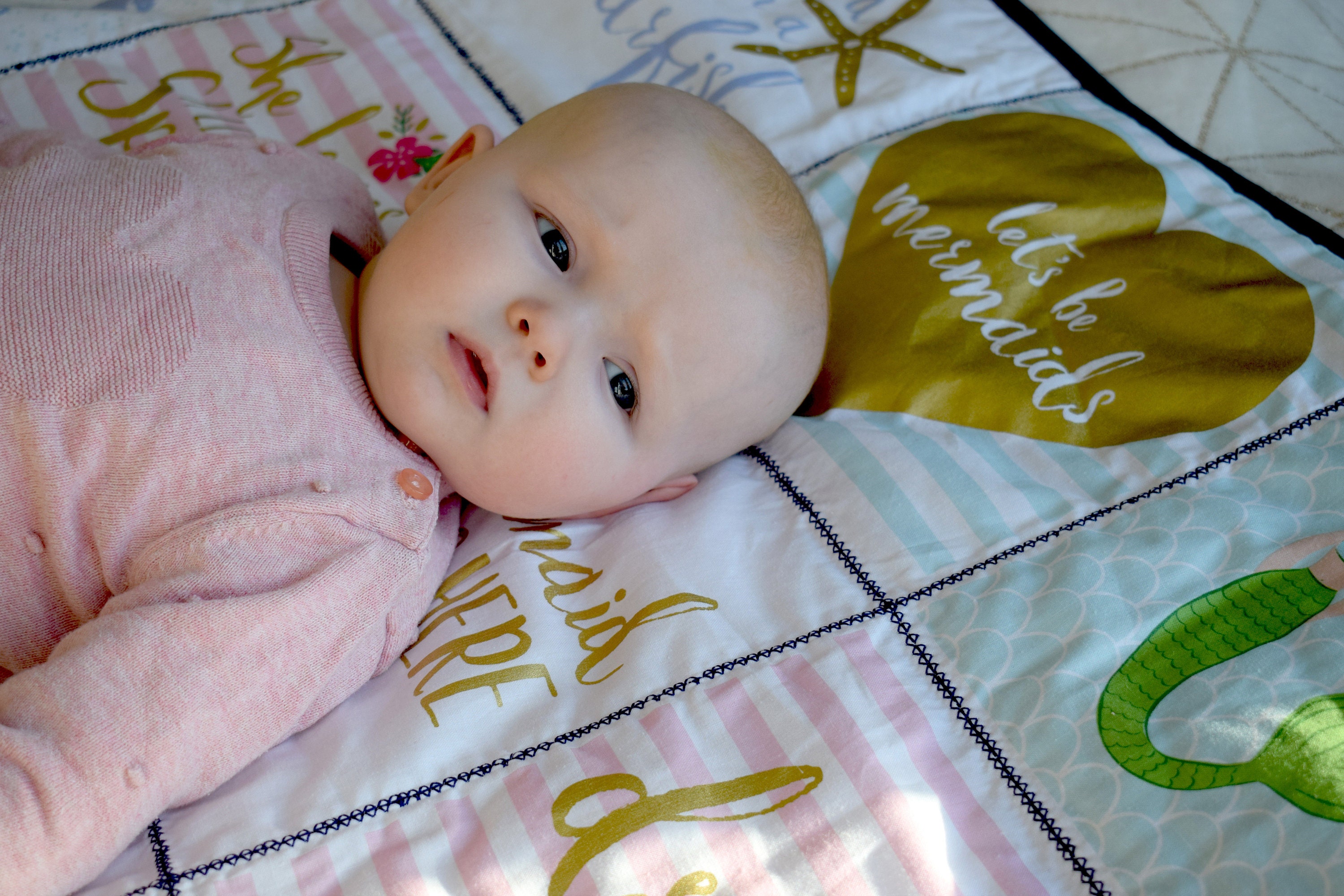 Riley Blake 'Lets be mermaids' panel available here:
https://www.studiojepson.com/listing/679192163/riley-blake-lets-be-mermaids-panel-baby
1m of co ordinating fabric, I chose Riley Blake 'You make me happy when skies are grey' available here:
https://www.studiojepson.com/listing/484541698/riley-blake-fabric-raindrop-fabric-you
1m of wadding
4 corner teethers available here (I bought mine at Tactile Treasures)
5m of Bias binding
Sewing kit 
Sewing machine
Temporay spray adhesive
Please note pre washing your fabric is recommended.
This is not a difficult project but you will need to take your time to ensure a beautiful finish. So pop on some music/ podcast/ netflix of your choice and grab a cup of tea and let's get started.
1.  Using the dashed line as a guide remove the plain white strip on the left side of the panel and the words on the right side of the panel.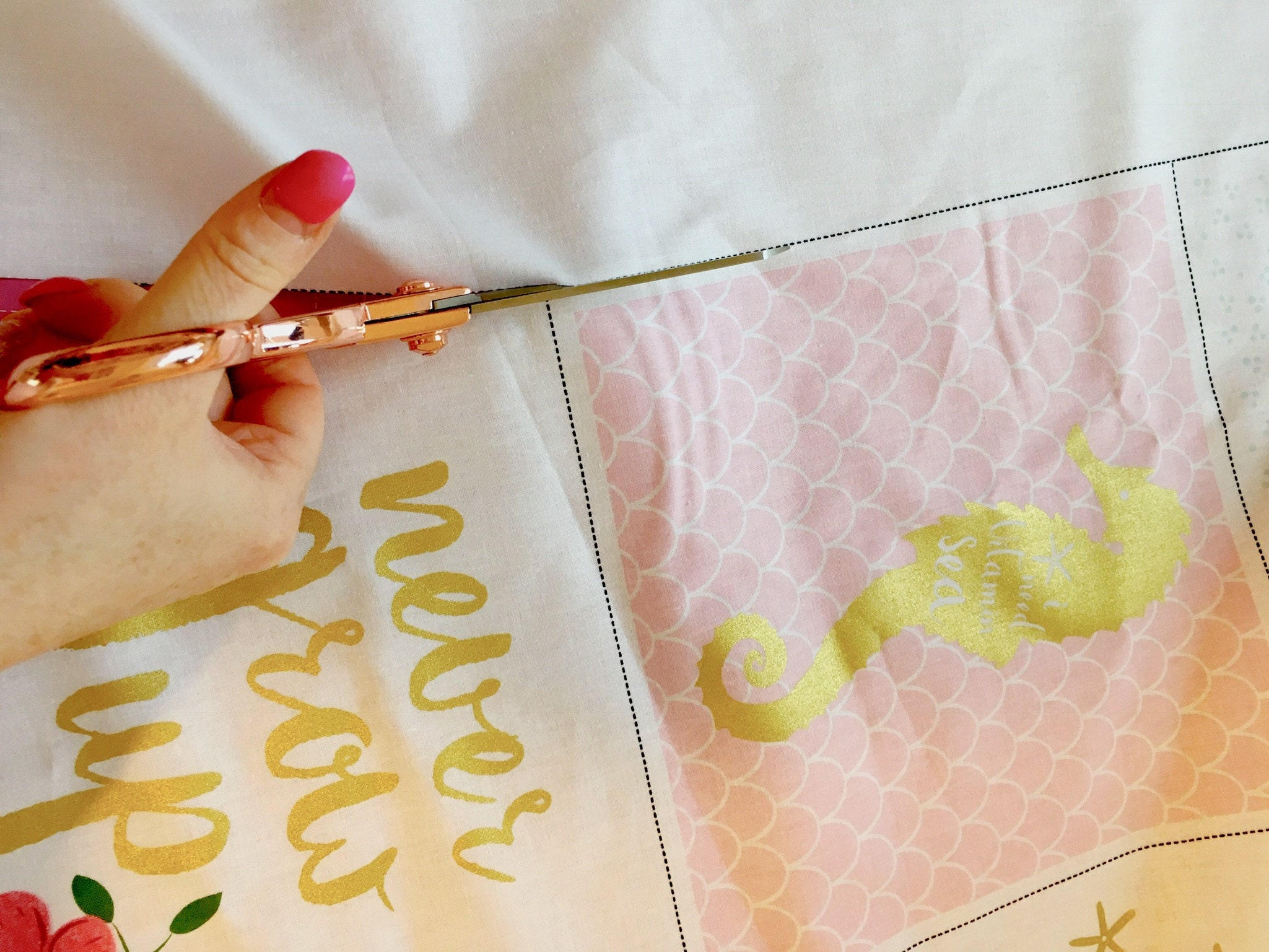 You should now be left with this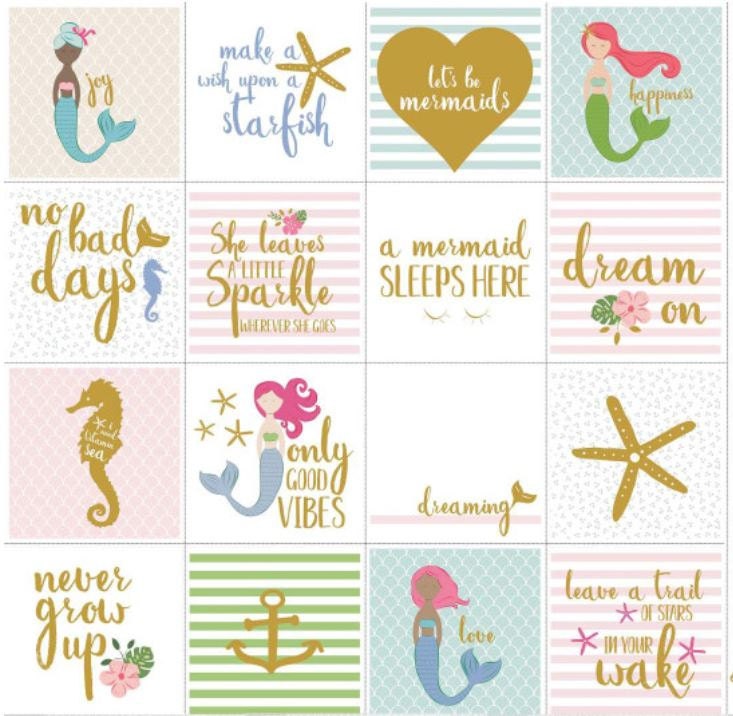 2. Using this square as a template, cut 1 piece of co ordinating fabric for your back. I chose Riley Blake 'You make me happy when skies are grey' in white and gold as I thought the gold raindrops looked rather like mermaid scales.
3. We are now going to mount the mermaid panel to the wadding so we can quilt it. Following the instructions on the spray can apply the temporary adhevise to the wadding and lay the panel on top. Make sure you are laying this nice and flat and smooth and that the fabric isnt being distorted out of its square shape. 
4. Roughly cut the wadding out, you dont want any unnesscary wadding getting in your way when you are trying to quilt
5. We are now going to add some pins to ensure that the panel stays in place whilst we quilt and mimimises distortion. Pin down the dotted lines - if you place the pins in at right angles to the line you will be able to sew over them with your machine. Add a pin at each panel edge too.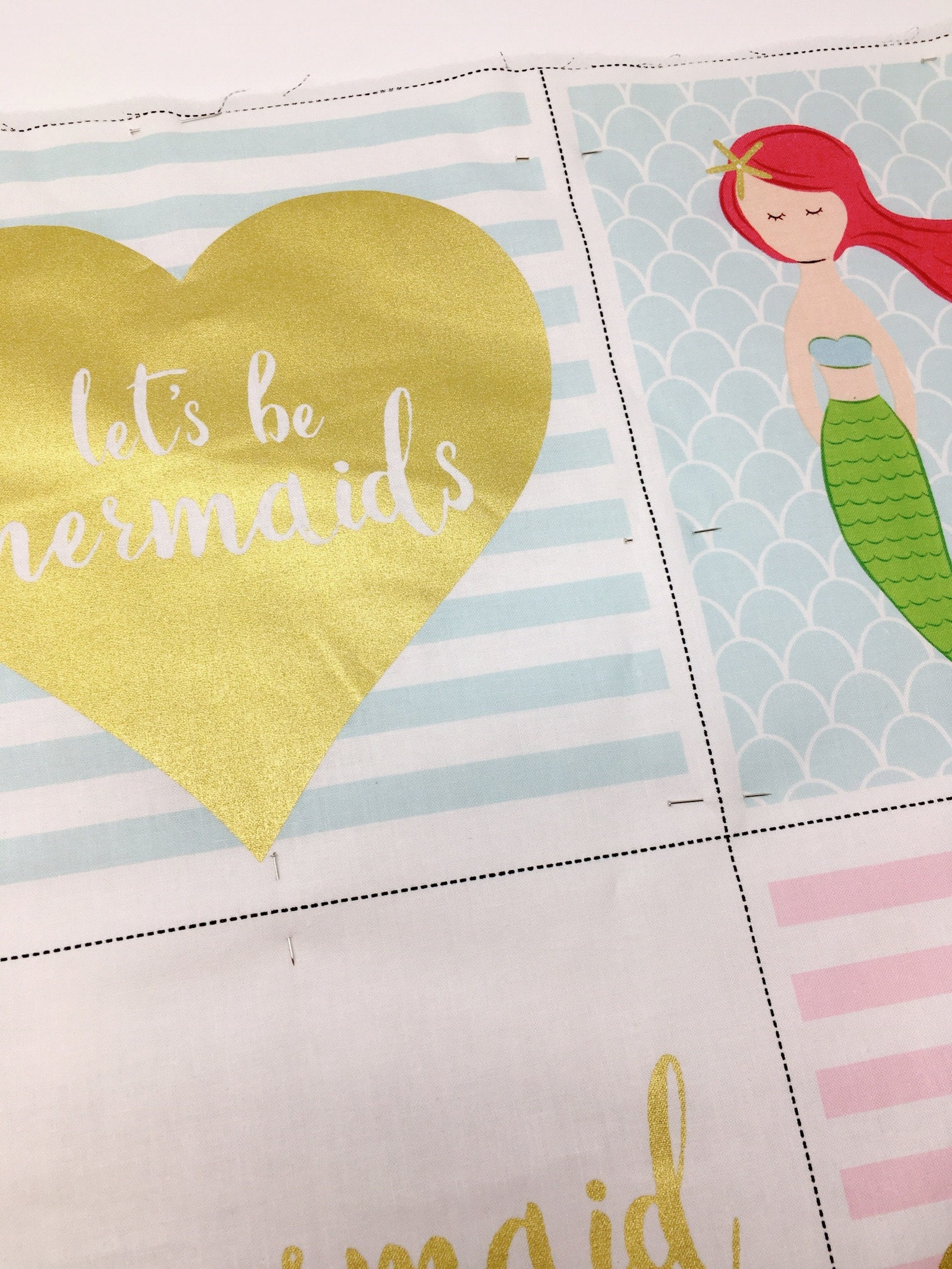 6. We are now going to quilt the panel. We have the lovely dotted lines as guides of where to stitch which is great! I am going to use a decorative stitch to stitch on top of these lines so they will be hidden. If your machine doesnt have any decorative stitches there are a few alteratives. You could use a tight zig zag, applique a trim such as a ribbon over the lines or you could hand embroider with an embroidery floss.
Start with the two centre lines and work your way out, this should minimimise any puckering or distortion.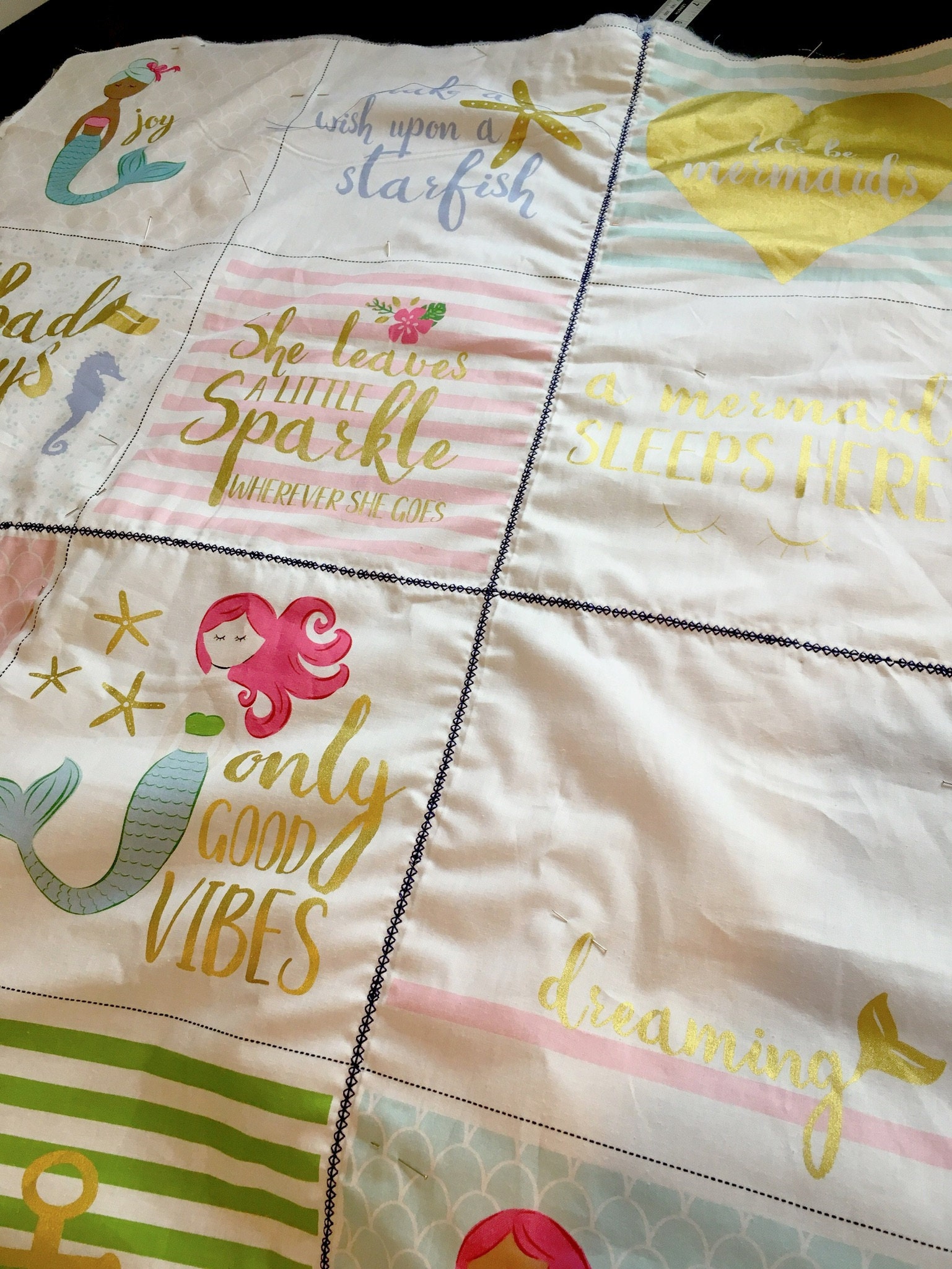 7. Quilt the rest of the panel.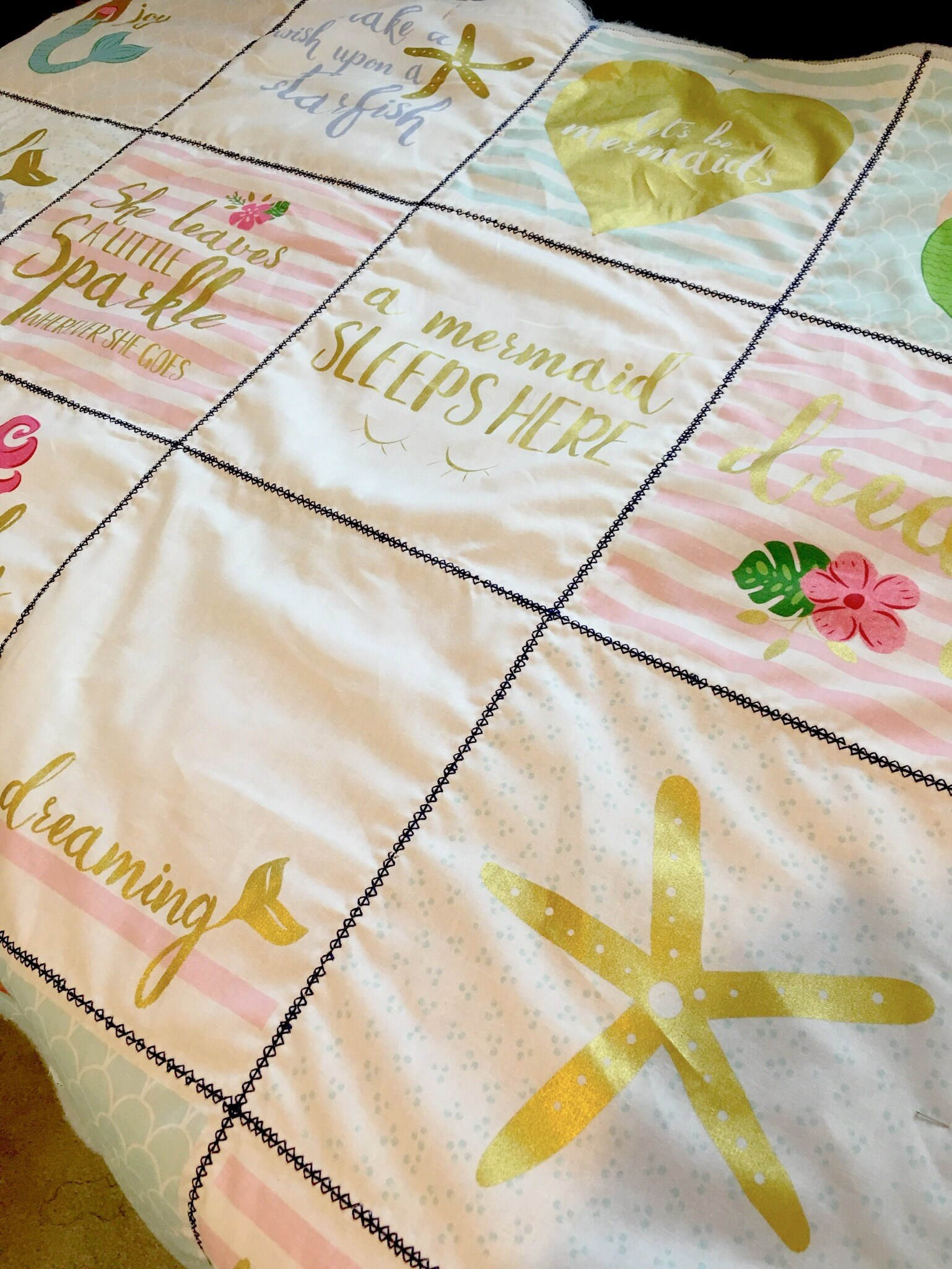 8. Turn your panel wrong side up and use the spray adhesive on  the wadding again, then lay your back fabric on top. Pin this backing in place starting from the centre and working your way out.
9. Tack around the edges of your blanket to secure the backing in place. This can be done by hand or using your tacking stitch on your machine if it has it.
10. Next we are going to add the binding. I have designed this blanket so it is super easy for a beginner. If you are familiar with how to bind a quilt then by all means finish the binding as you normally would (minus the teether corners). Here we are going to use cotton bias binding and teethers for the corner. This method is super easy because you dont have to negotiate the corners as the teether will be covering each corner, plus these super safe teethers will be perfect for baby to explore with their mouths.
Starting with the two long edges, unfold one edge of the binding and pin in place along the long edge. Stitch in this creased ditch then flip over and pin. You can either hand stitch the binding in place or machine it. I have hand stitched the binding in place so the stitching is almost invisible.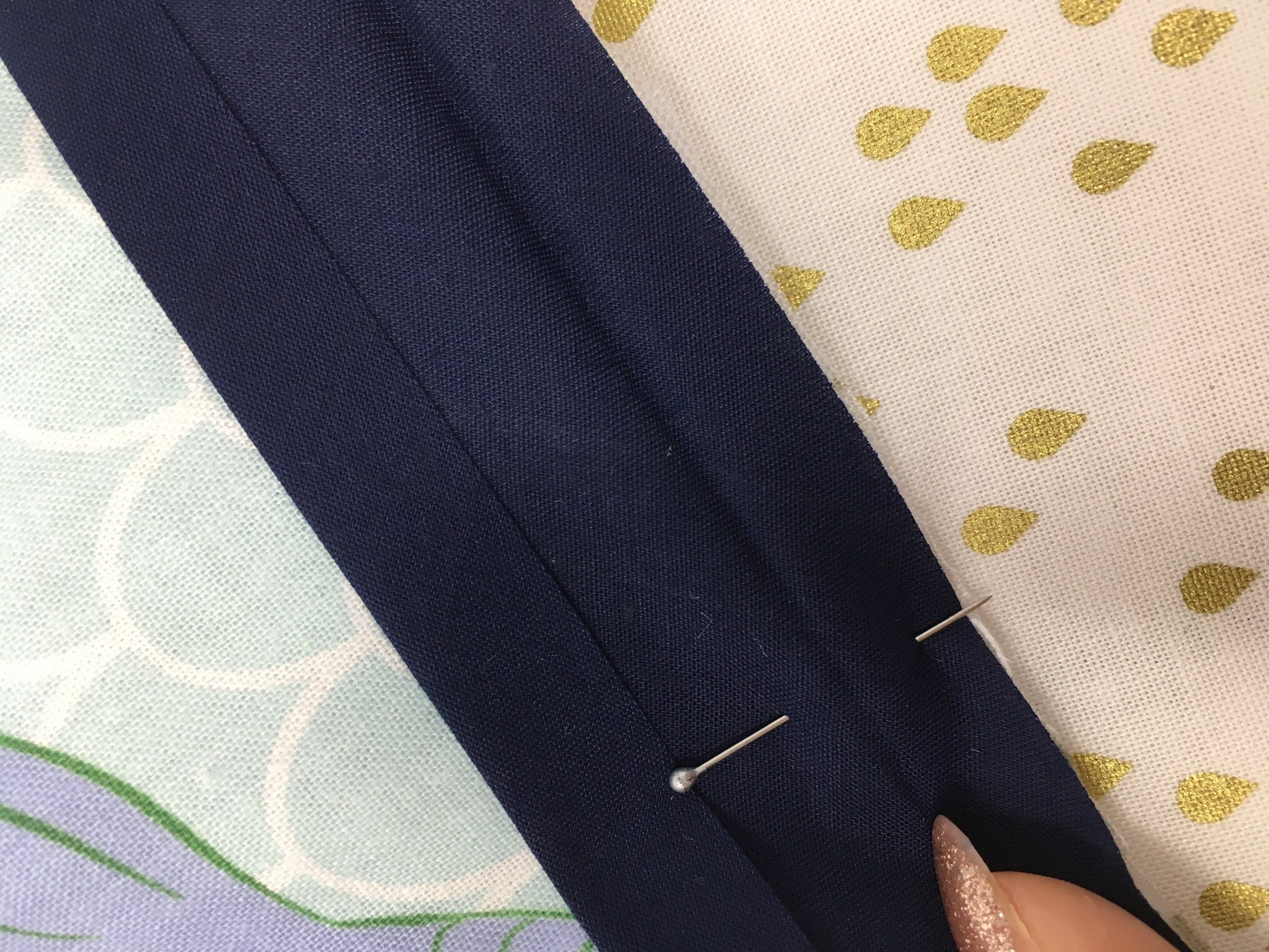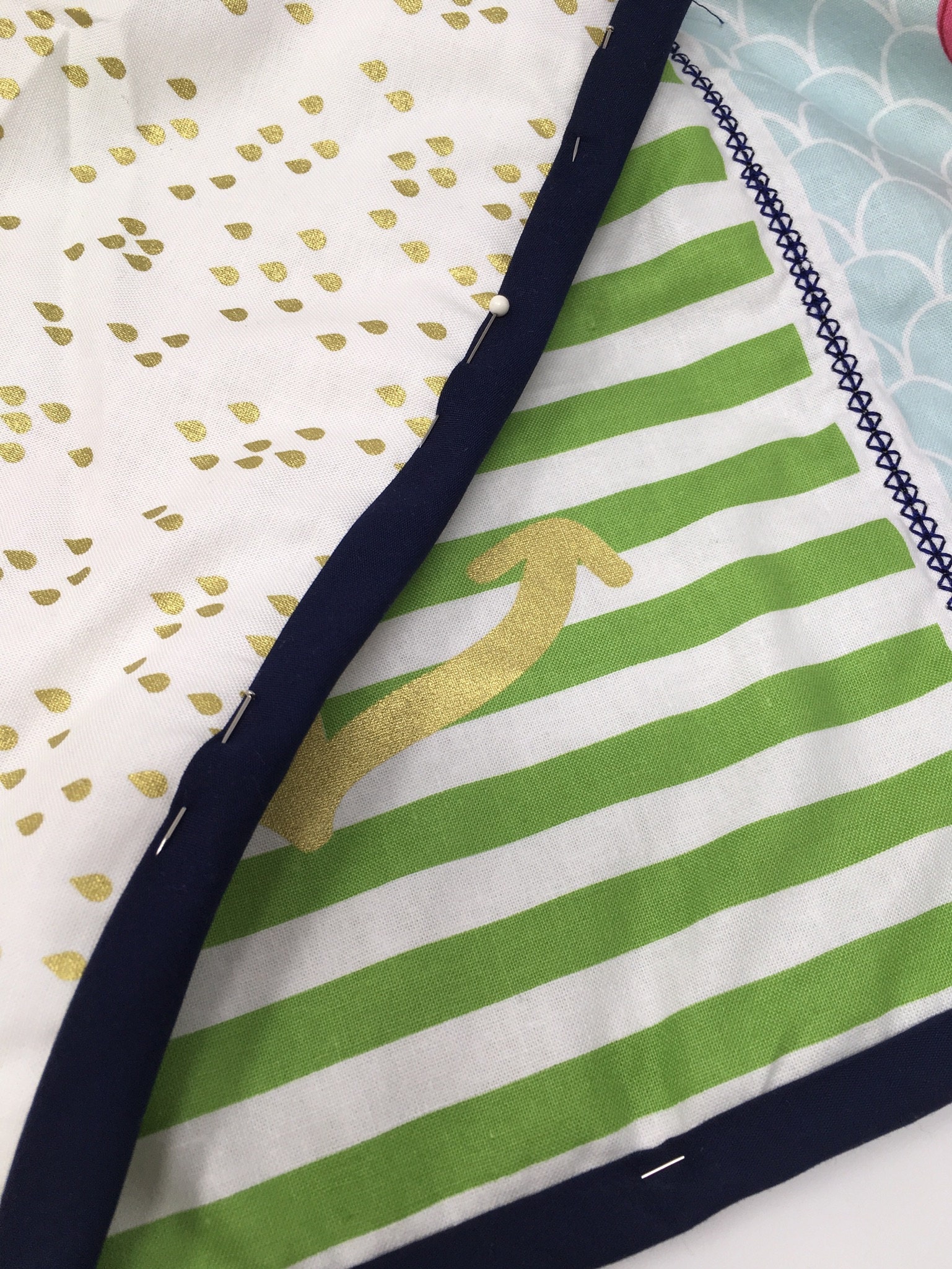 11. Repeat this process on the remaining three sides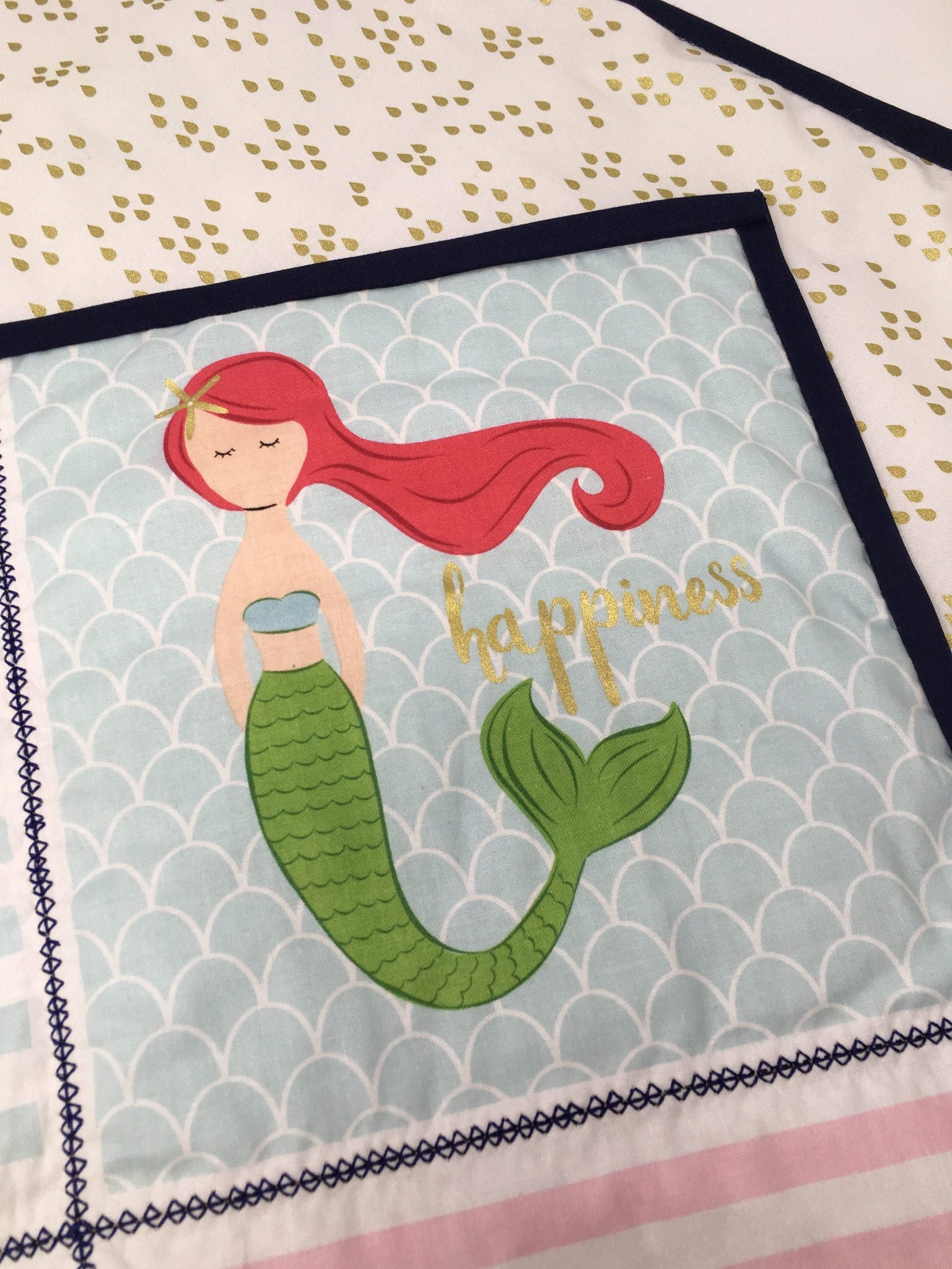 12. Sandwhich each corner inside the opening of the teether and machine stitch ensuring you reverse at the start and end of the stitching. I suggest using a zipper foot for this job.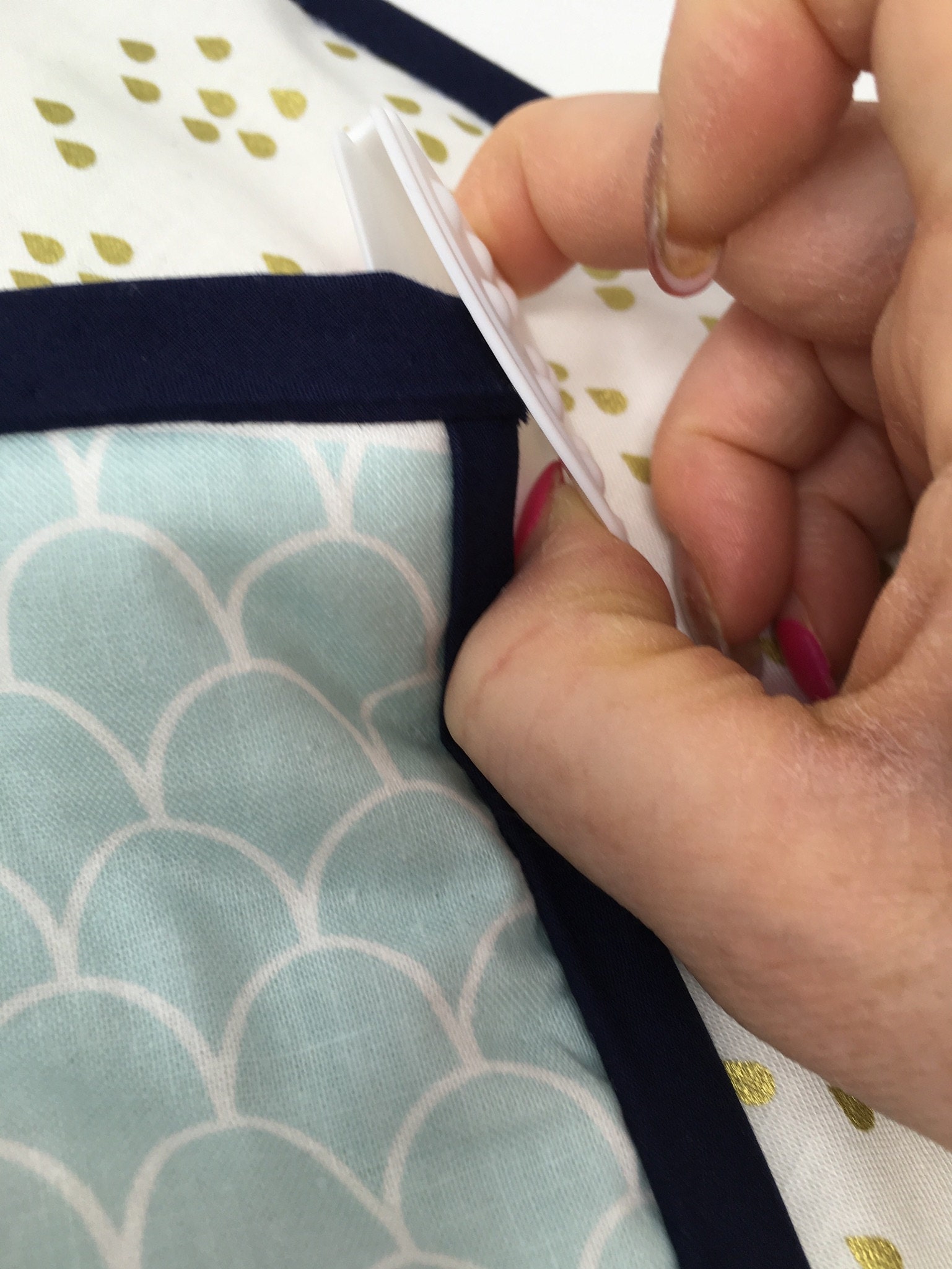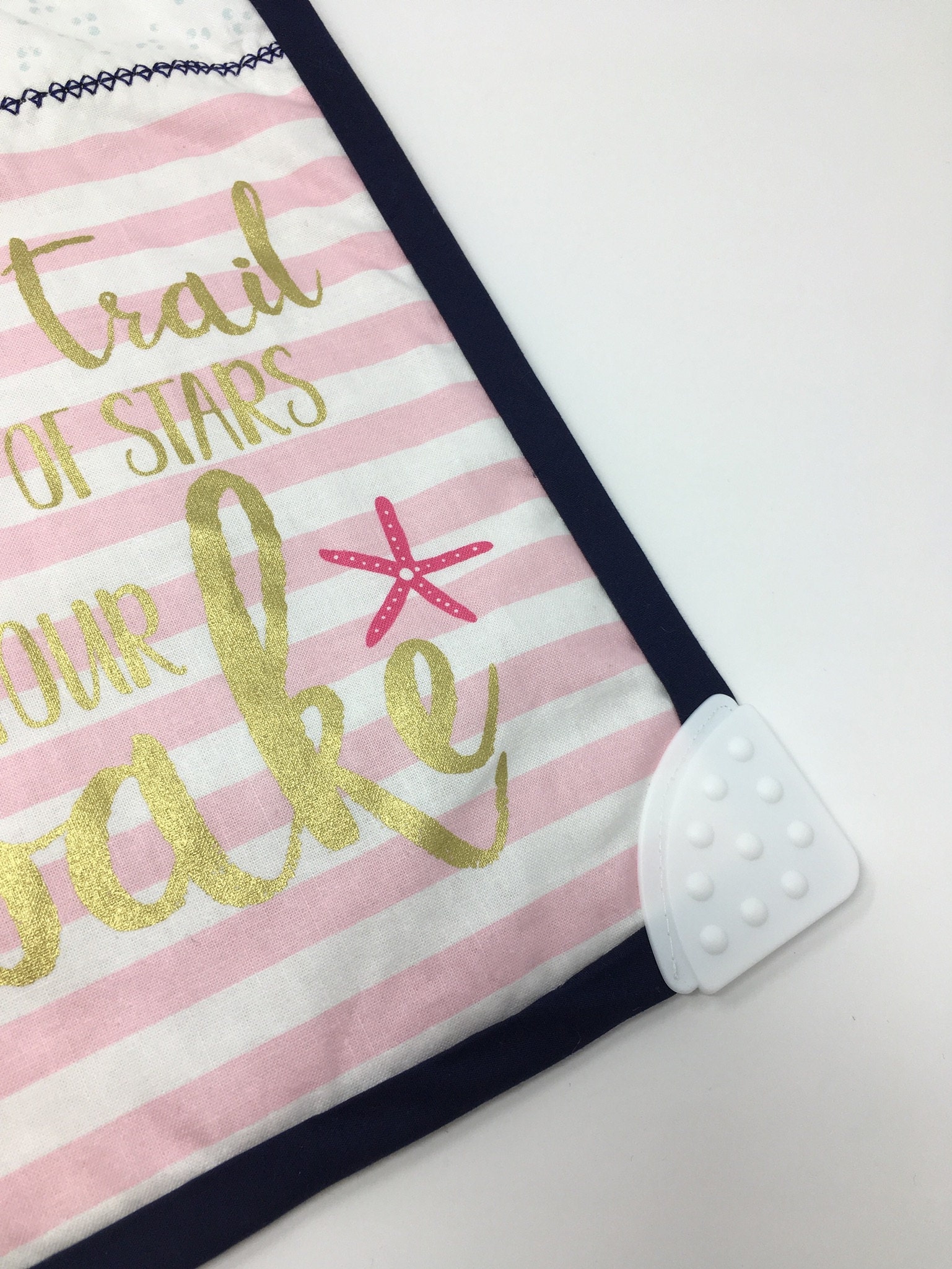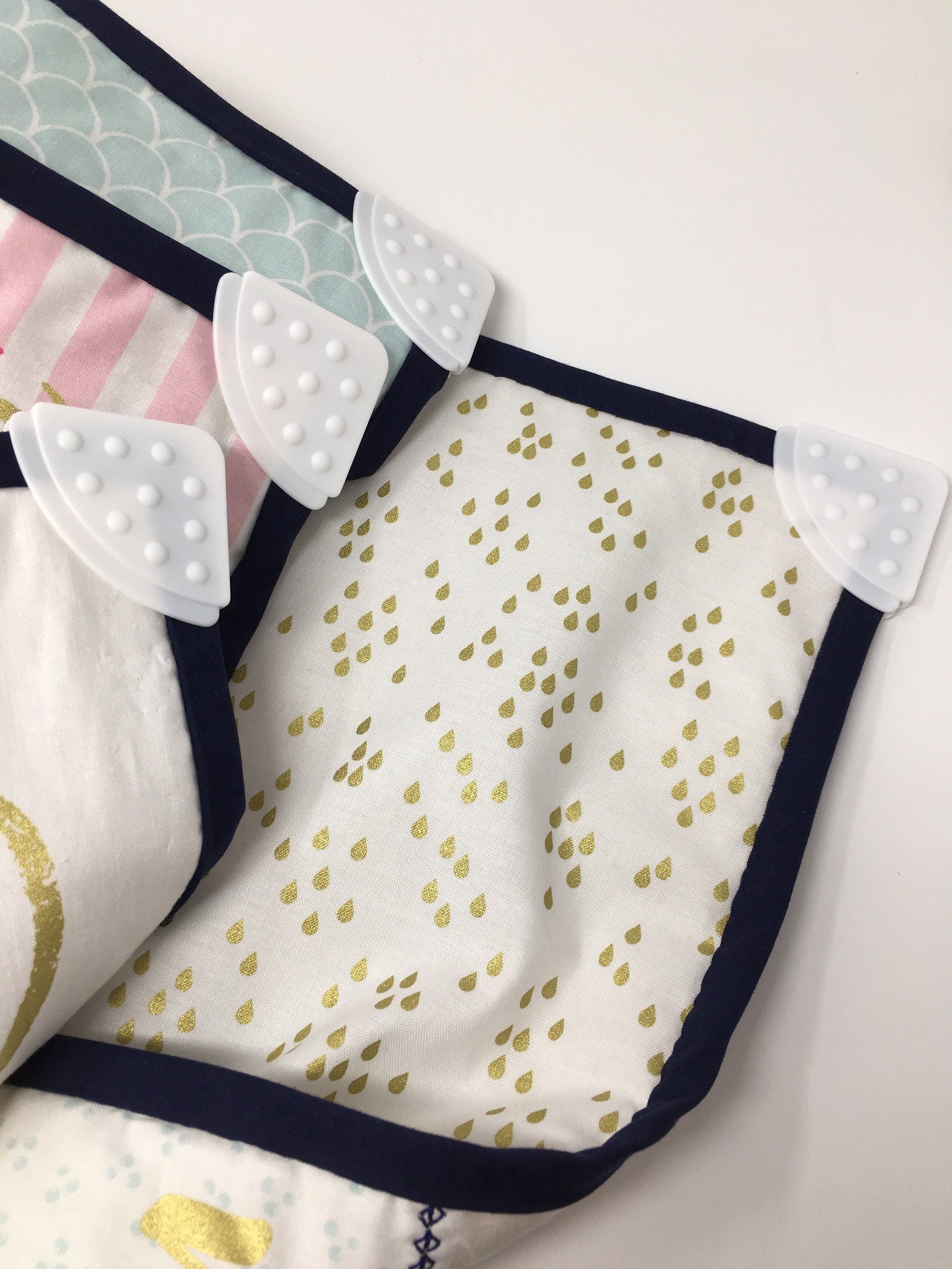 13. Your blanket is now complete. Check the quilt for thread ends and give it a final press.